Zoom UAC-2 USB 3.0 Audio Interface
HIGH-RESOLUTION, LOW-LATENCY, ULTRA-PORTABILITY
THE ZOOM UAC-2
USB 3.0 SuperSpeed Audio Converter for Mac and PC
Take your sound new heights with the high-speed, high-resolution, low-latency, and ultra-portable UAC-2 USB 3.0 Superspeed Audio converter.
The bus-powered UAC-2 adds two channels of 24-bit/192 kHz high-resolution audio to any USB 2.0 or 3.0-equipped Windows or Mac computer—even to your iPhone/iPad.* It utilizes USB 3.0 SuperSpeed technology for low latency and includes advanced features such as 4x upsampling, Loopback, and MIDI I/O. Plug in any microphone, line-level device, or instrument and use the UAC-2 for onstage playback, recording to a DAW, or enjoyment of high-res audio in your home or office. You can also use it for fast low-latency webcasting, podcasting, gaming, and other live streaming applications.
* Optional power adapter and Apple Camera Connection kit or Lightning to USB Camera Adapter required
Live performance
Now you can get the best out of your laptop at every gig. The UAC-2 is portable, bus-powered (no AC connection required), and built rugged for the road, plus its advanced converters and support for USB 3.0 SuperSpeed ensures superior audio wherever your music takes you.
Webcasting, podcasting, gaming, and live-streaming
Broadcast your creativity, enhance your gaming experience, and share your performance with the world.  The UAC-2's Loopback function combines the input from connected mics, instruments, and line-level devices along with background music or other audio tracks being played back by your computer and then instantly routes a custom blend of the signals to your favorite streaming software.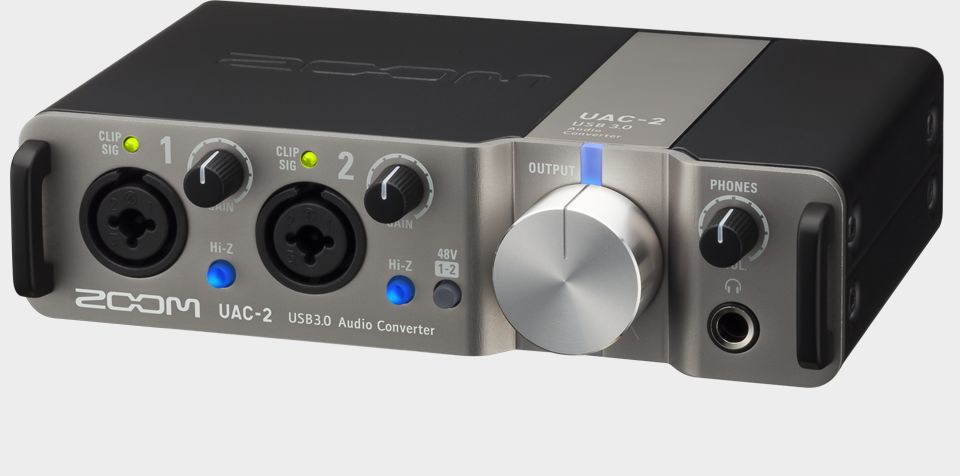 Recording and archiving
Pair a UAC-2 with your DAW and create great audio in any recording environment. Connect a wide variety of microphones, line-level devices, and instruments. Use Direct Monitoring for zero-latency overdubbing. Sync your MIDI controllers, sound modules, and drum machines. Archive your favorite recordings in high-resolution formats. The UAC-2 provides everything you need, in one compact device.
Desktop audio enhancement
Think your headphones and speakers already sound pretty great? Try plugging them into the UAC-2 instead of your computer's audio outputs and treat yourself to the true experience. Now you can enjoy the ultimate in streamed high-resolution audio—all the way up to 24-bit/192 kHz—in full fidelity.
Complete connectivity
The UAC-2 is an incredibly versatile interface. It works with everything from legacy USB 2.0 laptops and desktops all the way up to the latest-generation Mac or Windows USB 3.0-equipped computers. Or plug in an AC adapter and Apple Camera Connection kit or Lightning to USB Camera Adapter (sold separately) and use it with your iPhone/iPad.
MIDI
The UAC-2's MIDI input and output connectors ensure rock-solid synchronization between your computer and devices such as electronic keyboards, controllers, drum machines, and synthesizer or sampler modules.