Yamaha CSP-295PE Smart Digital Piano with Stream Lights - Polished Ebony
Save

$349.01
Original Price
$9,899.00 RRP
Immerse yourself in music with the Yamaha CSP-295B Smart Digital Piano with Stream Lights. This exceptional instrument delivers a realistic grand piano playing experience plus intuitive operation with Yamaha's Smart Pianist app. Stream Lights illuminate the keys for the next notes and the practice-friendly Guide function helps you nail difficult parts. An extensive lineup of preset songs awaits, and the Audio to Score feature quickly turns MP3s into chord charts. Voices and backing Styles bring added variety to performances. Enjoy playing your favorite songs without needing to read music.
INTUITIVE OPERATION WITH YAMAHA'S SMART PIANIST APP
The Yamaha Smart Pianist app gives you complete, detailed control over the instrument from your smart device. This intuitive app makes it easy to select the desired Voice from a variety of instrument sounds, and even switch between different virtual performance spaces and their acoustic environment (for example, a concert hall or cathedral).
*The app is available at the App Store and Google Play.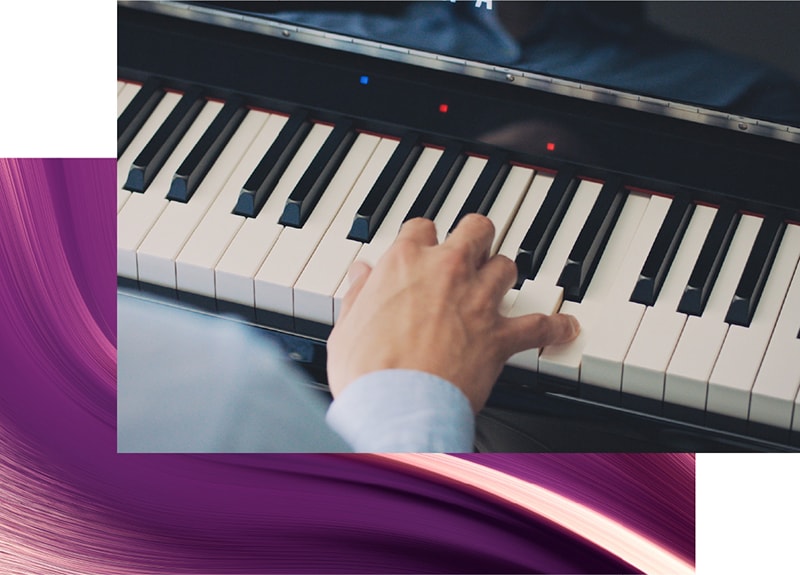 STREAM LIGHTS ILLUMINATE THE KEYS TO PLAY NEXT, MAKING MUSIC EVEN MORE FUN
Even if you can't read music, Stream Lights—used with the interactive scores shown in the Smart Pianist app—guide you to the keys to play next, making your practice more enjoyable.  You can also set the function for the left or right hand only, or slow the tempo at the hard parts to help you practice. There is even a Guide function that pauses the song until you play the correct keys.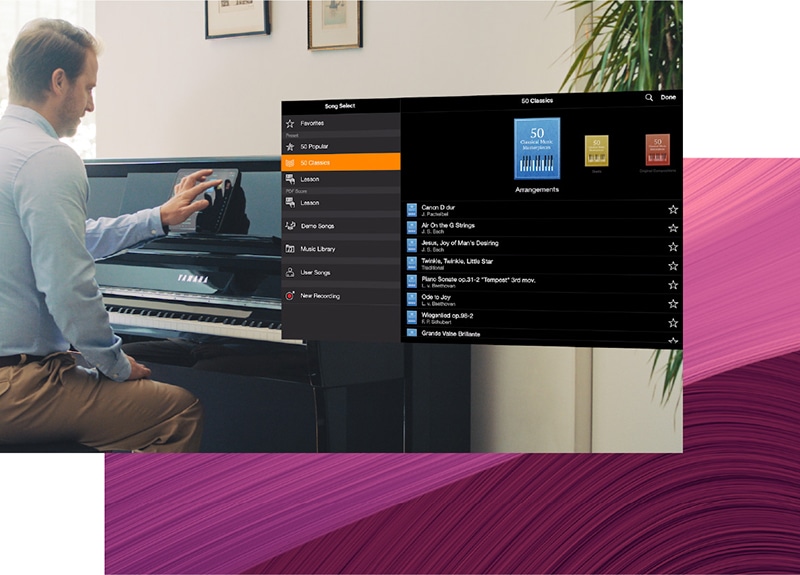 PRACTICE YOUR FAVORITES FROM AMONG THE EXTENSIVE LINEUP OF PRESET SONGS
The Clavinova CSP-200 Series features an ample selection of preset songs, from well-known popular and classical tunes to practice exercises. View the sheet music on Yamaha's Smart Pianist app, and use Stream Lights to guide your practice sessions. Moreover, you can add new songs to your collection on the app.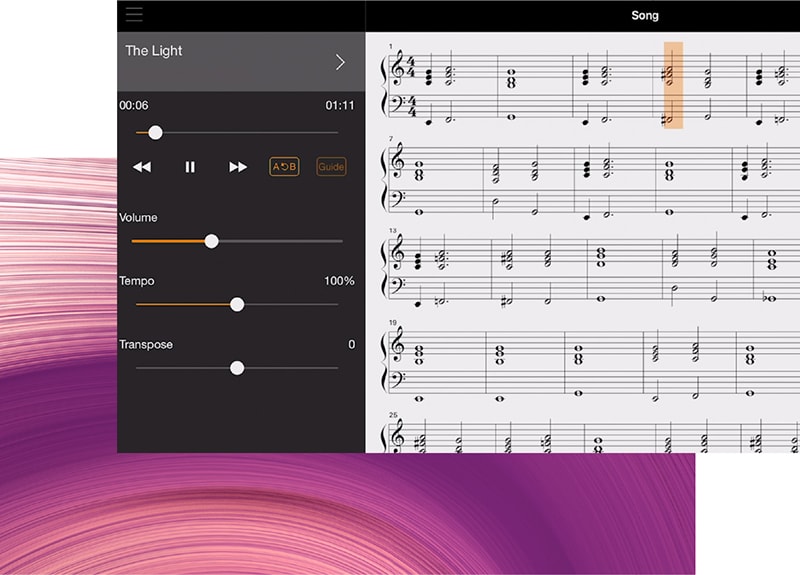 AUDIO TO SCORE LETS YOU TRY YOUR HAND AT THE TUNES YOU WANT RIGHT AWAY
When you want to play a song, but don't know where to begin or what to do, just use the Audio to Score feature included in Yamaha's Smart Pianist app. The app analyzes MP3s and other audio song data and creates chord charts with over 50 varieties of accompaniment to suit your playing level. All you have to do is follow the Stream Lights.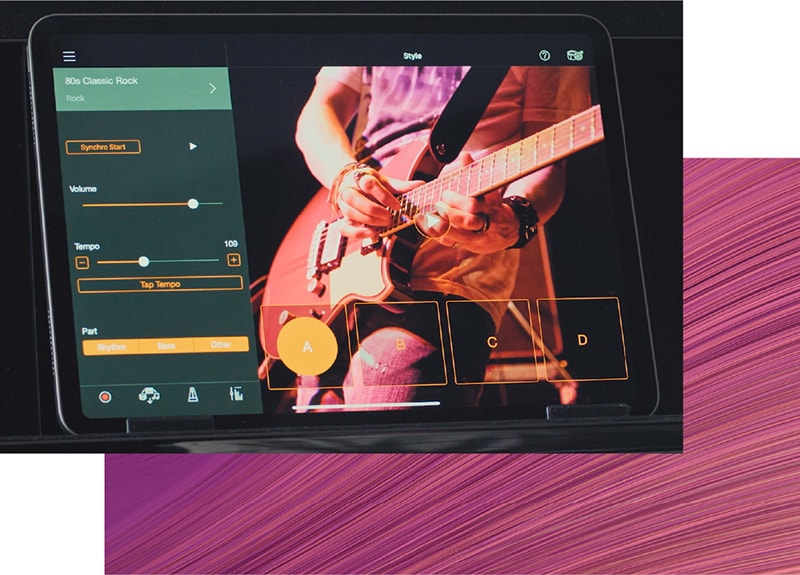 ADD VARIETY TO YOUR PERFORMANCE WITH VOICES AND BACKING STYLES
The Clavinova CSP-200 Series offers unrivaled capacity for musical expression, with a huge variety of instrument voices that belie their simple, elegant exteriors.
Featuring a wide array of backing Styles, the CSP Series allows you to enjoy great-sounding performances with authentic accompaniment that will enhance your playing across a diverse range of musical genres.
This flagship model of the Clavinova CSP-200 Series is an upright-styled digital piano, with unique Stream Lights for playing fun and learning ease. It includes a realistically expressive 88-key GrandTouch™ counterweighted keyboard, as well as Yamaha CFX and Bösendorfer Imperial grand piano sounds. Moreover, the free Yamaha Smart Pianist app provides intuitive operation of the instrument.
Stream Lights
Yamaha CFX and Bösendorfer Imperial piano samples, Yamaha CFX and Bösendorfer binaural sampling
919 Voices, 403 Songs and 525 Styles
Audio to Score
Virtual Resonance Modeling (VRM)
Grand Expression Modeling
GrandTouch™ keyboard with counterweights, 88-key Linear Graded Hammers
GP Response Damper Pedal
(50 W + 50 W + 40 W) x 2 amplifiers
Grand Acoustic Imaging
(16 cm + 8 cm + 2.5 cm (dome) with Bidirectional Horn) × 2 speaker system, Spruce Cone Speaker
Microphone connection
Multi-track MIDI recording (SMF format 0)
Audio Player/Recorder (File format: WAV, AAC)
Built-in Bluetooth® audio
Wireless connection to the Smart Pianist app via Bluetooth® MIDI